November 2. – November 3. 2012
The first thing to do after touchdown is to change the simcard in my phone. No connection n the plane, no connection on the airport… What to do. Like always I am joking with the immigration officer who is making good fun of the people in front of me. Me he calls Mr. Ghandi…
Out of the airport I find out the metro is not working and the taxis are more or less all gone. Hopefully I find a Spanish couple who had already been waiting for some time to share a taxi to Pahar Ganj. At 9.30 pm I am in front of New Delhi railway station – train is leaving at 0.59 am so I slowly walk down the main market to visit my printshop for eventually making business cards. Shop is already closed so I buy a diet coke at the neighbors shop and start talking to the shopkeeper. I tell him about the simcard problem so we go to a shop of a friend of his. "Simcard expired" he tells me "number is gone you can´t get back"….. Kya karega… What to do…
We walk back to the shop where I had the coke and I take place on the step of the shop. At this narrow street I have to raise my legs for every bike passing by. After a little time I take out my guitar and start to make some music. It´s late already and in the narrow, echoing street there is not much traffic so soon I am surrounded by people. A Spanish guy tells me about his baba who is here too and invites me to the ashram. "No money – all share, if you just make music everyone will be happy!". Sounds interesting and the baba, who is just coming down the stairs to listen to my music too seems to be an amazing guy. Time passes soon so I take some of their business cards and leave to the train station.
At the train station I find out the train is leaving from Old Delhi. Damn, what a stupid mistake! I never had a train leaving there so I did not even check the train station where to go! The guy at the railway station tells me to go to Connaught place to change the ticket and quickly arranges a taxi for me. As I thought there is no ticket available for the next 3 days. I ask for the price of a taxi to pushkar. 14.000.- rupees – haha good choke. After little negotiation on the phone we go to a travel agency next to the railway station where I get a taxi for 8500. Still expensive but it´s 1 am. At Vienna airport you probably don't even get a drink at this time of the day. Surprisingly the driver arrives at the office before I even finished my chai.
Chalo Pushkar! Being incredibly tired by now I soon lie down in the back of the car more pretending to sleep than actually doing so. As soon as we are out of Delhi the driver takes a rest to sleeping on the front seat for some time. The next time I wake up we have a flat tire. I get up and we quickly change it together. Dawn is already coming and the area looks familiar. Batteries of the gps are empty but I am pretty sure we will be in pushkar one nap later. One nap later its foggy. Asking my driver where the sun is he replies there is no sun – we are in Jaipur now. Half the way to Pushkar only. We take a chai after Jaipur and go on. 100km before Pushkar we stop again. The driver wants to repair the tire. He jumps out of the car and is gone. After waiting for some time I get a chai which gives me a bad feeling because I can´t lock the car which is out of sight when I am at the chaishop. People at the chaishop want to chat with me and I do least possible not to be impolite and return to the car.
After some time the shadow moves away from the car and it becomes hot inside. I have no idea where the driver is. I have the phone number of the guy where I booked the car but my sim doesn't work… What to do but wait – you are in india now so fucking get used to it I think and smile. "char puncher" – four holes, the driver explains his disappearing and we go on. Around 2 o clock in the afternoon we finally stop at varah ghat in front of Pushkar Lake.
Ansu is just coming up the ghat and both of us run to hug each other. It´s good to see there is a lot of water in the lake when we have chai at U Turn. I check in by putting my stuff in a room that is not occupied, buy a bunch of roses and make a walk through the market to say hallo to everyone. Same like last year the love I feel on this walk is not to be described. At Enigma I meet monica and ansus and manis mother who are as happy to see me as I am to see them. Mani is in Ajmer and will come to the UTurn later. At night, a lot of hugs and a belly full of chai later I come back to UTurn. Mani is already there and again I feel a lot of happiness and love seeing him again. He is my oldest friend in Pushkar and we have been through good and bad times together – it feels really good to sit with him at the rooftop again drinking chai talking about the past the now and the future…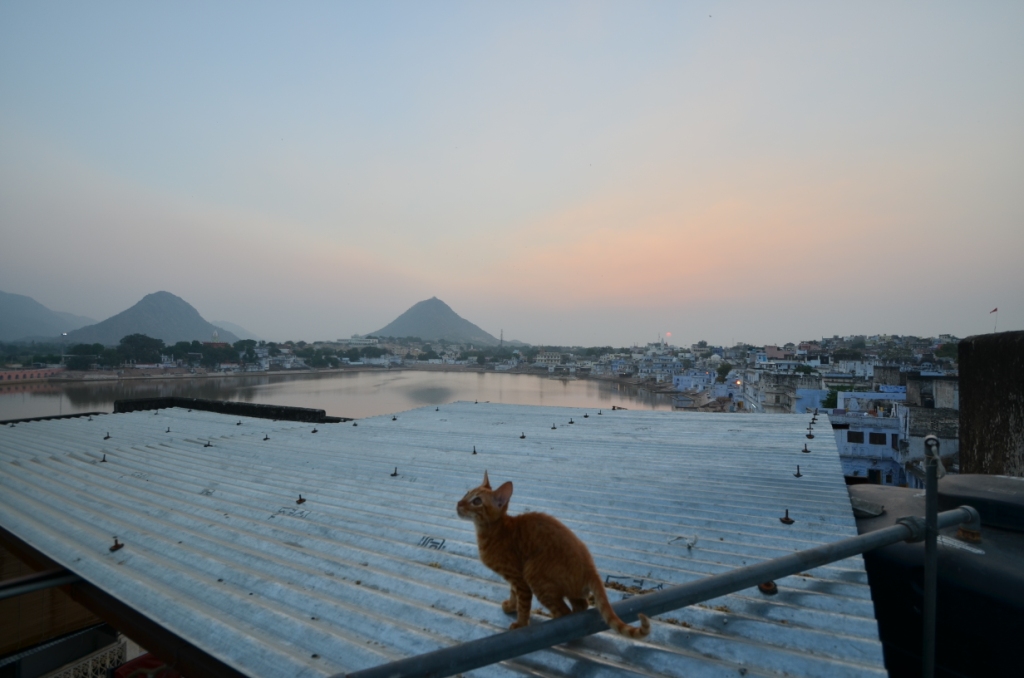 When I go to my room later Mogli is just talking to my neighbor who is a little sick. "Delhi belly" she says. If I can help I ask and 10 minutes later we make a little digestive yoga session including some reiki at the end. After she definitely looks better and according to what she says she feels a lot better too.
Ap HariOm ghatam hai. – Now I am finished! What an amazing day. Thank you! Bolenath!